Caesar Premier Tiberias Hotel
103 Hatayelet Street, Tiberias, 14202, Israel , Tiberias
With a stunning view of the Sea of Galilee and round-the-clock entertainment, the Caesar Tiberias Hotel provides a seasoned hospitality experience and gourmet food in a luxurious setting. A warm and friendly hotel staff is ready to make your vacation memorable by providing quality and cordial service. 
Spa hotel with 20 treatment rooms, salt baths, gym, sauna, sauna, and a thermo-mineral pool, the only one in the northern region with a thermo-mineral pool. In Hamat Caesar Spa, you will enjoy a relaxing and rejuvenating experience.

Due to the fence, the pool contains mineral water, and there are a variety of treatments like massages, aromatherapies, and reflexology available. With room service available, a bar and restaurant are available in the quiet lobby.

Guests of the "Olympus" night club will be thrilled by unique activities led by the entertainment team. Several shows for children, casino nights, tavern dinners, etc. At the weekend, two nights are reserved for action and two nights are reserved for action during the week.
More info
Close
Rooms
Classic Kineret View
classic Kinneret View ( no balcony)INCLUDING-COFFEE SET HAIR DRIER MAX 2 ADULTS
Classic with Balcony
CLASSIC ROOM WITH BALCONY INCLUDING-COFFEE SET HAIR DRIER MAX 2 ADULTS ONLY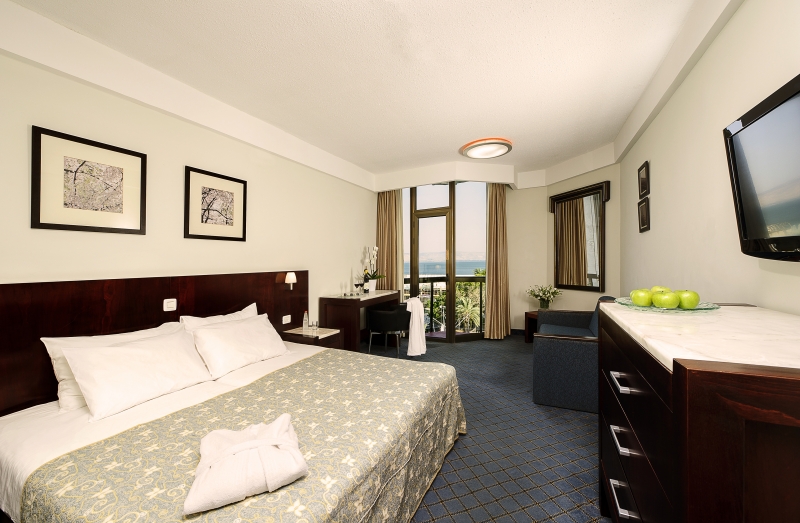 Reviews - Caesar Premier Tiberias Hotel
חיים שאולוב (8)
2023-05-13
אילנה שושני (8)
2023-05-08
Hotel Facilities
Swimming Pool
Spa
Gym
Kids Club
Parking based on Availability
Dining Room
Events Hall
Free WiFi
WiFi in the Rooms
Synagogue